Subscribe/Access
Advertisements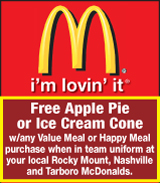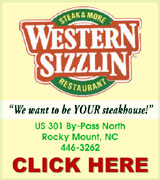 Sections
Member Options
Back
Nash looks at downtown property purchase
NASHVILLE - Following a closed session Monday, Nash County's Board authorized the county to negotiate the purchase of property in Nashville. County Manager Bob Murphy said the property is located on Washington Street and houses Joyner's Recreation. Murphy said it was too soon to tell what the property would be used for if and when a price was agreed upon. More ...
By Amanda Clark, Graphic Staff Writer
BUILDING HOMES
Nashville's Habitat for Humanity celebrated a groundbreaking for its next home last Monday afternoon at 721 Smith Street. The Hunter family will be the new home's occupants once the house is complete. Pictured (from L-R) is Patricia Hunter and her two sons, Jacob and Wendell "LJ." Hunter works as a teacher's assistant at Cooper's Elementary School. She has been there for about four years and with the Nash Rocky Mount School system since 1985. More ...

Nielson to run for Governor seat - says changes are needed
NASHVILLE - A Nashville man has announced his candidacy for Governor of North Carolina.
Dennis Nielson, 60, said he decided to run because he felt there were some changes that needed to be made, particularly regarding the elderly. More ...
By Amanda Clark, Graphic Staff Writer - 1 opinion posted
Nashville Library asks Castalia to help "furnish the future"
CASTALIA - Friends of the Library President Sarah Hinton and Library Director Melissa Mills attended Castalia's regular monthly business meeting on May 1, to ask for help in furnishing the larger Nashville library facility planned for renovation. The two gave a presentation called "Furnishing the Future" which they are offering to area groups and business in order to raise funds for the necessary furnishings for the new Cooley Library which will be housed in the old Joyner's supermarket building in Nashville. More ...
By Amelia Harper, Graphic Correspondent
Red Oak town commissioners approve $1.4 million budget
Red Oak Commissioners gave tentative approval to a 1.4 million dollar budget, the largest ever proposed for the town. The budget includes allocations for several improvement projects contemplated by the town, including the construction of the park, road improvements, and the possible addition of sewer services for the park and schools. More ...
By Amelia Harper, Graphic Correspondent
Nashville Fire Dept. receives new addition
NASHVILLE - For the past three years, Nashville's Fire Department has been stocking up on equipment through proceeds from grant money. The equipment has been stored throughout three vehicles as well as a trailer. Now, the equipment will all be stored on the department's new service/rescue truck.
The truck rolled in last Tuesday afternoon from Coastal Industries, a company that takes aluminum bodies and refurbishes them into emergency service vehicles. In the end, Nashville stayed within their $100,000 budget to purchase the truck and have the bed installed and refurbished. More ...
By Amanda Clark, Graphic Staff Writer
Board continues eminent domain plan to acquire land
NASHVILLE—The Nash-Rocky Mount Schools (N-RMS) board reviewed the status of their land acquisition for the new high school complex at their Monday night meeting. The discussion centered around the eight acres that the board is attempting to obtain by an eminent domain lawsuit involving the "Quick Take Process." More ...
By Michele A. Cruz, Graphic Correspondent
Local team wins state Envirothon competition
The "Swamp Stompers", the middle and high school Envirothon teams from the Christian Homeschool Association of Rocky Mount, were recognized for their achievements at the State Envirothon competition in Burlington on April 27-28. The teams advanced to the state competition after placing among the highest teams in the regional Envirothon in March. The teams were sponsored by the Nash County Soil and Water Conservation District. More ...

Nash County Rosenwald Schools celebrate reunion
A special reunion was held April 21st to celebrate the Nash County Rosenwald Schools of the past but to also honor the few that remain.
The Castalia School is one of a few still remaining and is being updated with intentions of becoming a multipurpose center. More ...
By Amanda Clark, Graphic Staff Writer
Potato growers annual meeting slated for May 21
Elizabeth City— Potato growers from across the state are invited to attend the N.C. Potato Association's annual meeting on Monday, May 21, at the Pines Golf and Country Club in Elizabeth City. The program includes a luncheon, farm tour, business meeting, golf tournament and evening banquet. More ...

Life just doesn't get any better than this
In the blink of an eye — literally — the world's longest term pregnancy to date came to an end with the birth of Lowell Asher Brantley.
Weighing in at a trim 7 pounds, 15 ounces and stretching almost two feet with a shaky reach and a pair of chicken wing legs, Lowell finally got here last Thursday. More ...
Mike Brantley
Weather Beaters
WILMINGTON -- Nash Central had to overcome more than just a string of quality opponents last Saturday at the Class 3-A East Regional Track and Field Meet.
Structure is an important part of any track meet as competitors must get mentally and physically prepared to take part in an event at a specific time. More ...
By Geoff Neville, Graphic Sportswriter
NN nabs top seed in NEW
ROCKY MOUNT -- A change of venue didn't help Rocky Mount, but it sure must have kick-started the Northern Nash Knights.
Northern senior pitcher Zach Woodley was an infield hit away from a no-hitter Monday evening in a special playoff game for the NEW 6 3-A Conference's No. 1 playoff seed. The one-hitter was nice, but the 5-0 win over the Gryphons in their own backyard was even nicer. More ...
ByCharles Alston, Graphic Correspondent
Super soph sparks Knights on Senior Night
RED OAK -- Even though it was Senior Night at Northern Nash last Thursday evening, it was a sophomore who stole the show for the upset-minded Knights.
Nine Northern seniors were recognized before the start of their game with NEW 6 league leader Rocky Mount. However, lefty 10th- grader Tyler Joyner was in the spotlight. More ...
By Charles Alston, Graphic Correspondent
Wesleyan wraps up campaign
ROCKY MOUNT -- The Battling Bishops of North Carolina Wesleyan wrapped up their 2007 baseball season at Bauer Field on Sunday, splitting an afternoon doubleheader with York College of Pennsylvania.
The Spartans took game one by a 6-1 score, but NCWC battled back for the 6-2 game two victory to finish with a 28-16 overall record. More ...
From Staff Reports
Pirates sweep Houston
HOUSTON, TEX. -- East Carolina used a six-run fourth inning to complete the sweep of Houston Sunday afternoon at Cougar Field 9-2 in Conference USA baseball action. More ...
From Staff Reports
Trench Camp scheduled at Northern
RED OAK -- Some of the biggest high school football players in the state will be taking to the football field at Northern Nash High Saturday morning. The school will host the 4th Annual Trench Training Lineman Camp at Death Valley. More ...
By Charles Alston, Graphic Correspondent
Mudcats topped at home by Jacksonville
ZEBULON -- A.J. Ellis drove in two runs to assist the Jacksonville Suns to a 4-3 series-clinching victory over the Carolina Mudcats Sunday afternoon at Five County Stadium in a Class AA Southern League baseball contest. More ...
From Staff Reports
SUSIE HIGHT RALEY
Susie Hight Raley, 90, passed away, Saturday, May 5, 2007 in Nashville, NC. A teacher in the Nash County School System from 1970 until 1984, she worked with migrant children and also served for many years as a substitute teacher. More ...

NANCY WHITE HILL
Reidsville, N.C. - Nancy White Hill, 77, of 1271 S. Park Dr. Reidsville, N.C. died Wednesday May 2, 2007 at Annie Penn Hospital. More ...

BOBBY LAMM
NASHVILLE – Bobby Harold Lamm, 72, died on Wednesday, May 2, 2007. Funeral services were held on May 5 at the chapel of Cornerstone Funeral Home with the Rev. Ron Hawley officiating. Burial followed at Forest Hill Cemetery in Nashville. More ...