Subscribe/Access
Advertisements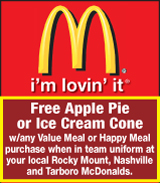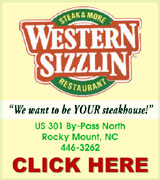 Sections
Member Options
Back
Nashville budget is presented to council
Nashville Town Manager Preston Mitchell presented town council members with the first draft of the town's 2007-2008 fiscal year budget at their regular meeting Tuesday night.
The $6,645,052 budget includes no proposed tax increases, which will leave the Town of Nashville's property tax rate at 63 cents per $100 of valuation. More ...
By Amanda Clark, Graphic Staff Writer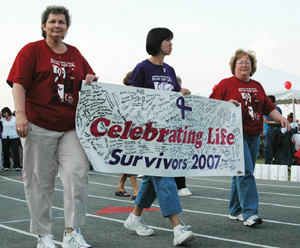 SURVIVORS - The 13th annual Relay for Life began Friday night at the Rocky Mount Athletic Complex with opening ceremonies, followed by the survivor walk. Pictured above, survivors begin their walk around the track.

HOPING FOR A CURE
They came out fishing, hunting, cruising and clowning but in the end, all they really wanted was a cure.
The 13th Annual Relay for Life was held Friday and Saturday at the Rocky Mount Athletic Stadium. This year's participants came ready for some action. They came as clowns, cowboys and beach goers. Some came as cancer survivors. Even Santa was at this year's Relay. But instead of toys and trinkets, all this year's Relayers wanted for Christmas was a cure for cancer. More ...
By Amanda Clark, Graphic Staff Writer
"Snoopy" coming
Nash Central High School's drama department presents the musical "Snoopy" Friday, May 4 and Saturday, May 5 at W.L. Greene School in Nashville. Showtime is 7 p.m. and tickets are $5 each and may be purchased at the door. Pictured (L-R) Tate Mizelle, as Snoopy, and Ryan Kitchen, as Charlie Brown, rehearse a scene from the play. More ...

Spring Hope ponders annexation
Areas of potential annexation were discussed in a special Saturday meeting held by Spring Hope Commissioners April 21.
Town Manager John Holpe, along with attorney Liz Fairman, went over the four types of annexation with Spring Hope's board as well as some of the areas the board may want to look at annexing. More ...
By Amanda Clark, Graphic Staff Writer
Nash observes National Child Abuse Month
Country artist and North Carolina native Jason Michael Carroll's first hit song, Alyssa Lies, tells a powerful story of child abuse. On Thursday, Bert and Luke Boone sang Carroll's song in memory of the 37 children from North Carolina who died at the hands of their parents or caregivers in 2005.
The Child Abuse Ceremony, sponsored by the Nash County Department of Social Services, remembered those 37 youngsters, 20 male and 17 female, who died as a result of child abuse. More ...
By Amanda Clark, Graphic Staff Writer
DAY OF PRAYER
An observance will be held on the Nash County Courthouse steps Thursday May 3, 2006 at 12:00 noon sponsored by Ebenezer Pentecostal Holiness Church, Nashville United Methodist Church, Nashville Baptist Church, and Taylor's Chapel Pentecostal Holiness Church. Everyone is invited to attend and participate. More ...

Glover Park property damaged during break-in
Glover Park was burglarized two weeks ago, causing around $700 in damage.
According to Nashville Police Chief Bill Creech, the incident occured after hours, sometime between 9:30 p.m. on April 17 and 7 a.m. on April 18. More ...
By Amanda Clark, Graphic Staff Writer
Postage rates to increase May 14th
Postal rates are going up but this time around, customers can protect themselves from future increases by purchasing the recently unveiled Forever Stamp. More ...
By Amanda Clark, Graphic Staff Writer
Highlights of last year's Darwin Award winners
Each year, the Soapbox borrows the stories from the folks who do the Darwin Awards. This is a bit of dark humor that has spawned books and a movie, detailing the dumb ways that people either end themselves or cause some type of serious incident through sheer stupidity or lack of common sense. More ...
Mike Brantley
Bee Friendly Day is Saturday
Coastal Plains Beekeepers will have its annual"Bee Friendly" field day on Saturday, May 5th. The event will be from 10 A.M. until noon at the East Carolina Agriculture and Education Center on Kingsboro Road, which is located just off US 64 between Rocky Mount and Tarboro. The public is invited to attend and learn more about honey bees. More ...
Letter to the Editor:
'Dogs Bite NEW
ROCKY MOUNT - Winning a state championship is the ultimate goal for the Nash Central High boys track and field team.
But that goal is unattainable unless a team experiences a wealth of success on the conference and regional levels.
Athletes need to do well in the league to qualify for the regionals. And they need to finish in the Top 4 in regional competition in order to make the states. More ...
By Geoff Neville, Graphic Sportswriter
NN's Nemesis
RED OAK - Northern Nash's hopes of posting an undefeated record in NEW-6 Conference action were vanquished by an old nemesis last Tuesday in Death Valley.
Wilson Fike, the defending league tournament championship -- defeating NN in the finals -- got the best of the Lady Knights once again, posting a 6-3 decision in a spirited, hard-fought fastpitch softball contest. More ...
By Geoff Neville, Graphic Sportswriter
Gryphons claim two conquests
ROCKY MOUNT -- Southern Nash and Nash Central had their chances against league-leading Rocky Mount last week. Both took early leads on the Gryphons ... only to see those advantages disappear as Rocky Mount took a few more steps toward repeating as the NEW 6's baseball champion. More ...
By Charles Alston, Graphic Correspondent
Much-improved Bulldogs roll to road triumph versus Bunn
BUNN -- Nash Central is much improved on the tennis court this spring -- a fact the Bunn Wildcats have discovered on two occasions.
The Bulldogs finished off a season sweep of the Wildcats with an 8-1 team decision last Wednesday afternoon at the BHS Courts in Franklin County.
Central, coached by Susan Proctor-McCarthy, claimed victory over Bunn in an identical scorer earlier in the campaign in Rocky Mount. More ...
By Geoff Neville, Graphic Sportswriter
LC soccer camps are scheduled
LOUISBURG -- The 2007 Louisburg College Pro-Tech Soccer Camp will have two different sessions this summer.
LC men's soccer coach David Sexton will host camps from June 18-22 and July 30-Aug. 3. Times will run from 9 a.m.-noon each day. More ...
From Staff Reports
NC's Dawes to go distance for 49ers
ROCKY MOUNT -- Living up to his name, Handy Dawes has been quite the handy man during his Nash Central track and field career.
Displaying the ability to both sprint and compete at middle distance, Dawes has been a key performer in multiple events for Central -- and he's one of the reasons the Bulldogs are expected to be in the hunt this Saturday at the Class 3-A East Regionals at the University of North Carolina-Wilmington. More ...
By Geoff Neville, Graphic Sportswriter
ECU takes league victory
GREENVILLE -- Sophomore right-hander Josh Dowdy went seven innings allowing two runs on four hits and Jamie Ray was 3-for-4 as No. 25 East Carolina beat Southern Miss 6-3 Sunday afternoon in Conference USA play at Clark-LeClair Stadium. More ...
From Staff Reports
Mudcats topped on road
SEVIERVILLE, TENN. -- A botched suicide squeeze bunt in the bottom of the ninth nevertheless led Tennessee past Carolina 5-4 at Smokies Park on Sunday in a Class AA Southern League baseball meeting. More ...
From Staff Reports
MAVIS WINSTEAD
NASHVILLE – Mavis "Odell" J. Winstead, 75, died Monday, April 30, 2007. Funeral services were to be held today (Wednesday, May 2) at 11 a.m. in the chapel of Cornerstone Funeral Home and Cremations in Nashville with the Rev. Bill Barbee and the Rev. Judson Dunlap officiating. Burial will follow at Forest Hill Cemetery of Nashville. More ...

ROSA FOSTER
NASHVILLE – Rosa Alston Foster, 66, died Friday, April 27, 2007. Funeral services were held April 30 at Bunn Chapel Baptist Church with the Rev. Wayne Hines officiating. Burial followed in the Oakland Cemetery. More ...