Subscribe/Access
Advertisements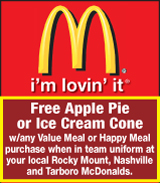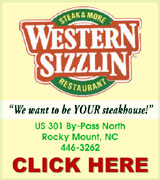 Sections
Member Options
Back
UPDATED: N-RMS mulls over revised policy
NASHVILLE — Assistant Superintendent Tommy Finch presented the Nash-Rocky Mount Schools (N-RMS) Board of Education with revised text for their Student Assignment and Transfer policy at its work session Monday night. The revised policy up for approval significantly defines the terms and conditions of all student assignment and transfer and is specific in its guidelines for students who are children of school employees. More ...
By Michele A. Cruz, Graphic Correspondent
Nashville gets clean financial check-up
NASHVILLE - Nashville's Board received a positive audit report from Scott May, of May and Place, during its retreat held February 13.

"We found no errors or irregularities in the system,"May said. "All the town staff did a wonderful job this past year. Every department had everything there and ready to be audited." More ...
By Amanda Clark, Graphic Staff Writer
Local woman dodges multiple charges
NASHVILLE - A Whitakers woman who tried to run over a Nashville Police Officer and Sheriff's Deputy received a 21-month active prison sentence in Superior Court January 23.

Rose Marie Augerlovoie-Burgess, 30, was picked up in August 2006 by a Sheriff's Deputy for outstanding warrants for breaking and entering and unauthorized use of a motor vehicle. When the deputy arrived at the Nash County Magistrates Office, Burgess, who was in handcuffs, stole the deputy's vehicle and tried to run the officer over. More ...
By Amanda Clark, Graphic Staff Writer - 2 opinions posted
State and local school dropout rates increase
NASHVILLE - Last school year, according to the state Department of Public Instruction (DPI), the Nash-Rocky Mount Schools (N-RMS) dropout rate was 7.07%, as 411 high school students chose to leave school. This figure shows 62 more dropouts than the previous school year, 60% of which were black males. More ...
By Michele A. Cruz, Graphic Correspondent
Students quilt to learn about African-American history
WHITAKERS - Swift Creek Elementary School third, fourth, and fifth grade art classes are learning African-American history with a needle and thread. Art teacher Wendy Ferguson-Whitehead has introduced her art classes to the idea that quilts may have been used to signal and direct runaway slaves through the Underground Railroad before the Civil War. More ...

Wal-Mart plans to open in 2008
Wal-Mart will soon start bids for its supercenter in Nashville and plans to be up and running in a year, according to Stocks Engineering Vice-President Paul Smith.

Nashville's town council and planning board both approved site plans for Wal-Mart back in August 2006. Smith said Wal-Mart will receive bids for construction within the next month. More ...
By Amanda Clark, Graphic Staff Writer
NFD promotes fire safety
Fire departments across the United States have seen a huge increase in residential fire deaths this year. Many of those fires could have been prevented and local fire departments are encouraging citizens to take preventive measures to keep it from happening in Nash County. More ...
By Amanda Clark, Graphic Staff Writer
Sorority plans 34th Jabberwock
The Rocky Mount Alumnae Chapter of Delta Sigma Theta Sorority is planning its 34th Jabberwock, which will be held at 4 p.m. on March 25 at the Dunn Center for the Performing Arts at N.C. Wesleyan College. More ...

Ten from NC named to NCC leadership posts
Ten North Carolina cotton industry members have been elected to leadership positions in the National Cotton Council (NCC) for 2007, including David L. Burns, producer from Laurel Hill, who was named chairman of NCC's export promotion arm, Cotton Council International (CCI), and Harding Stowe, R.L. Stowe Mills, Belmont, who was re-elected as an NCC vice president and as a CCI director. More ...

System for punishing criminals seems to be slack
I've always been a strong believer in our justice system. Lately though, I've become a little skeptical.

It seems a slap on the hand has become more common in the courtroom than in our schools. It doesn't matter what the crime, chances are, you'll get off pretty easy, at least in Nash County. More ...
Amanda Clark - 4 opinions posted
Who let the gremlins in?
Every week, we write and edit tons of news copy, take dozens of photos, plus sell and create multiple ads for the paper and special sections and somewhere in between all that, once a week, we package all that copy, those photos and ads into a weekly newspaper in a matter of just a few hours in order to get the freshest news to yaou, our reader. More ...
Jo Anne Cooper
Pork barrel spending at its absolute worst
Ahh, it's that exciting time of year again when winter begins its last days and the excitement of tax season begins to build.

Just to get all of our reader-taxpayers in a celebratory mood, it's time that the Soapbox presents our annual Pork Barrel report. This report is made possible by the good folks at Citizens Against Government Waste (CAGW), a non-profit watchdog group. More ...
Mike Brantley
A Billiard Inv-Asian
ROCKY MOUNT - Talk about long shots.

Ga-Young Kim, the winner of the Carolina Women's Billiard Classic — first event of the Women's Professional Billiards Association Tour — is from Seoul, South Korea.

Her opponent, Xiaoting Pan, is a native of Shanghai, China. More ...
By Carey Johnson, Graphic Staff Writer
A Webb of Defeat
ROCKY MOUNT - With leading scorer Trey Sumler out of the lineup due to illness, Nash Central's boys basketball team still had to feel confident that playing a playoff game on its home floor might be enough to insure a win.

Last Wednesday evening, confidence just wasn't enough.

The Bulldogs, who didn't lose their first game of the calendar year until the NEW 6 Conference Tournament, fought hard but came out on the short end of a 57-55 decision to Oxford Webb in the second round of the N.C. High School Athletic Association 3-A state playoffs. They were down by 11 with four minutes remaining, but coach Michael Mosley's crew never gave up. More ...
By Charles Alston, Graphic Correspondent
Wesleyan stalwarts honored
ROCKY MOUNT - The North Carolina Wesleyan Department of Athletics has announced that senior Mark Wooten of baseball, freshman Sarah Seligman of lacrosse and freshman Brooke Lashley of women's tennis have been selected as USA South Athletes of the Week for February 26. More ...
From Staff Reports
East Carolina wraps up strong weekend
GREENVILLE - East Carolina continued its hot hitting hand Sunday after noon pounding out 10 hits and scoring 11 runs in an 11-4 win over Duke in the final game of the ECU Invitational at Clark-LeClair Stadium.

With the win, the Pirates improve to 5-5 on the season while Duke drops to 9-1. More ...
From Staff Reports
CHRISTOPHER LYNCH
WHITAKERS – Christopher Todd "Low Rider" Lynch, 40, died Wednesday, Feb. 21, 2007. Funeral services were held on Feb. 26 at Ebenezer Baptist Church. Burial followed in the family cemetery. More ...

WILLIE TUCKER
Willie "Bo" Tucker, 70, died Sunday, Feb. 18, 2007. Funeral services were held Feb. 24 at the Social Union Baptist Church with the Rev. Nathaniel Bunn officiating. Burial followed in the church cemetery. More ...

THOMAS CLIFTON HAWKINS
CASTALIA - Thomas Clifton Hawkins, 64, died Sunday, February 25, 2007. He was born, April 26, 1942 in Franklin County to the late Alton Hawkins and Inez Wood. He is preceded in death by his wife of 45 years Rosa Height Hawkins and one son Kirk Hawkins, and brothers Wayne Hawkins and Chubby Lee. More ...